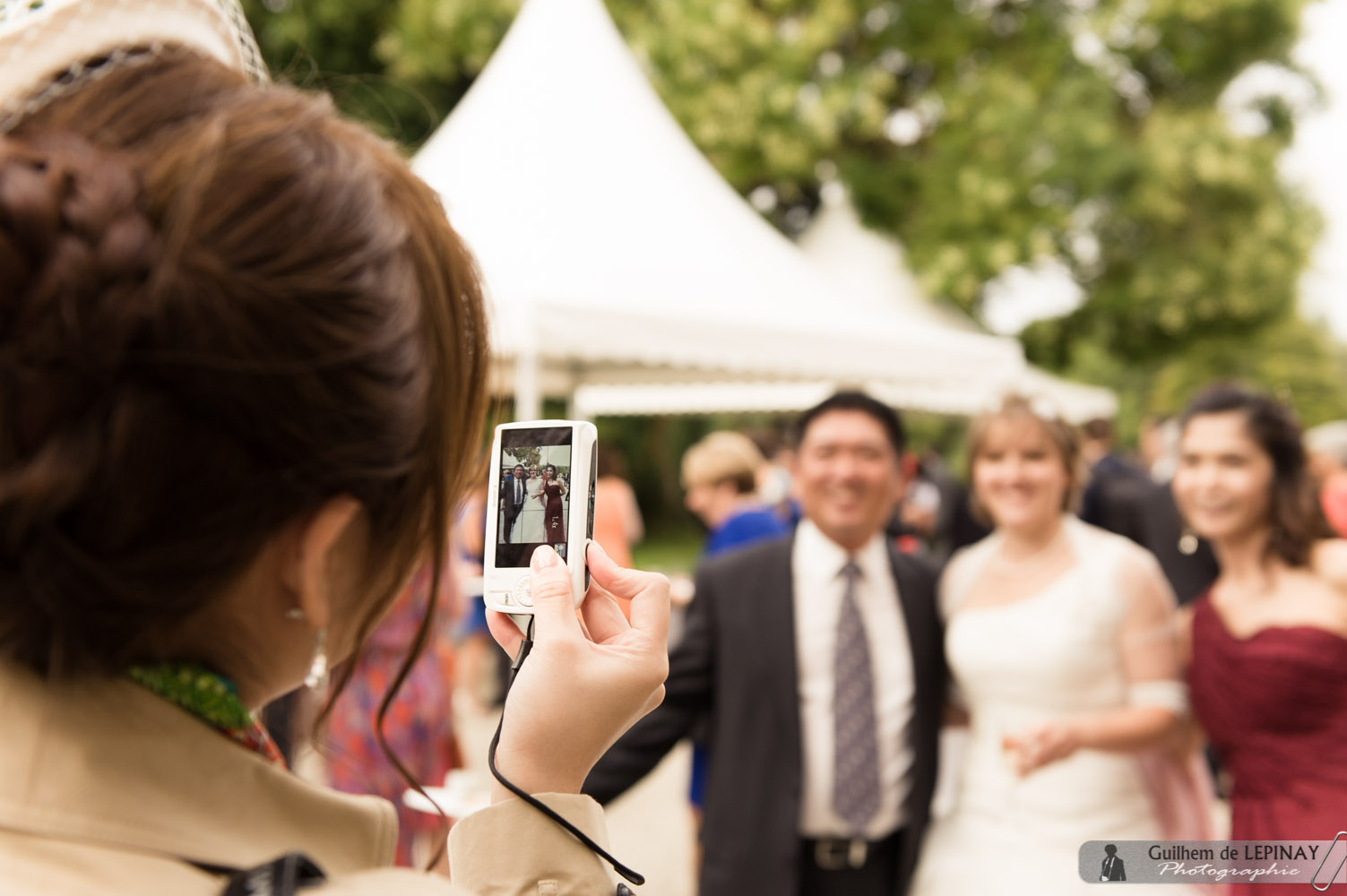 More and more often, When I work, I find myself surrounded by all share by competitors of a new kind : people who take pictures like that, for fun ! And then what again ? Since when photography is more reserved for the only professionals able to master the techniques of shooting ? Raking every moment as if it was the last, new photographers upset the balance of power…
Disaster ! That will become professional photographers with their new competitors ? What will become of our profession ? Is he doomed irretrievably ?
What future for professional photographers – a thorough and complete and unprecedented study
The best defense is a good offense, so to not have a train of delay on "new photographers", I have studied in detail, in order to understand their workings and methods. I deliver you here, exclusive, the path of my study and its conclusions – Perhaps my last contribution to the world of photography ?
Step 1 – Identification of competitors : who are the new photographers ?
Locate and identify new photographers, not so easy : they hide of their game in their trouser pocket, and as soon as the photograph blend back into the population, as if nothing had happened. As if they were not account that they were involved in the genocide of photographers pros.
A technique to find them
To complete my mission, I have to put myself in danger, infiltrate me at the heart of their fief, at the place where the flashes leave no respite, even in daylight : a church of newlyweds output ! [Note : more simply, You can ask a star to go out in the street, the effect is pretty much the same without having to marry]
Surrounded from all sides, I was not too clever with my bulky 24-70mm f:2.8, but I still managed to take this shot.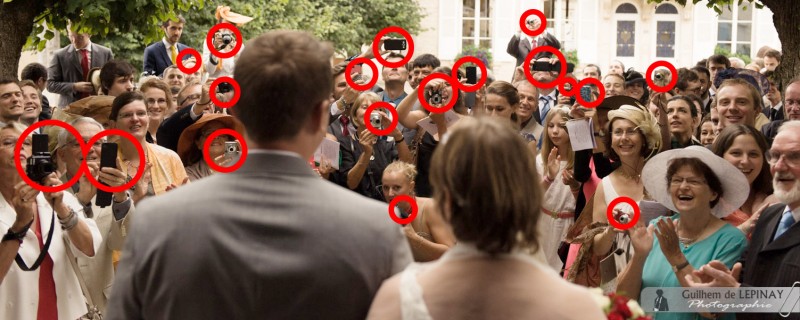 I was not wrong : they are there, and in force ! At this precise moment, There are no less than Eighteen cameras in action !
Difficult despite this nice shot of net to define a specific type of new photographer. In analyst seasoned, I still noticed a striking detail : on this Assembly, at that time, only four people that tap into their hands can legitimately be considered not doing not Party of new photographers…
I was subsequently able to theorize these results in a method that has proved almost infallible to recognize :
Is new photographer anyone who not tape in his hands.
I say almost infallible because once I could see someone taking pictures while applauding… Surely the exception that proves the rule.
Step 2 – Their techniques : How do they operate ?
Finally able to recognize in the field, I was able to perform targeted spinners to set some characteristic behaviours. Several months of research and analysis were required to deliver these results :
New photographer secures its cliche thanks to the collective redundancy
Take many photos of the same situation, It is one technique proven to be sure "to have a good batch". This excellent method, I master and practice extensively since the arrival of digital, seems partially outdated ! New photographer multiplies not only photos but also cameras !
Same situation taken in the same way many times and with several identical devices, redundancy is at its maximum ! How not to have at least a good with this method ? For this time, benefits for new photographers, but let's see if they're as good everywhere.
(Note everything on the example above that the new photographer n ° 3 on 4 try to vary the direction of photography : landscape instead of portrait. After reflection, difficult to explain this choice in this case ; This is surely due to the device that is not an iphone.)
---
New photographer master many tools… at the same time !
There where we other professional photographers are struggling to pass a Nikon to a Canon or vice versa, new photographer excels in control of various devices.
How do not pass for dinosaurs to excessive inertia when we see that some of us use devices dating 2007 ?
To compete with new photographers in this field, a simple solution exists : instead of foolishly limited to a single brand, professional photographers should have the last case and a series of objectives for each brand (Nikon, Canon, Sony, Pentax, Sigma, as well as, of course, Leica and Hasseblad – the latter having a number of objectives more limited than reflexes, It should be much easier to get used to its operation). It was enough to think !
---
Unlike traditional photographers, new photographer is sometimes on her photos
Portable equipment, and this is the case to say, new photographers allows them to achieve views until then impossible to achieve, and yet if necessary.
Even without front camera, new photographers manage to press the button of the screen without too much affect the framing. The artistic touch of these pictures is indisputable : cut the eye of a represented person, the last that did was called Picasso !
Here so, not really a solution to competing. Their artistic side was too strong. On this crucial point, clear advantage for new photographers.
---
New photographer operates at best the potential of its devices
Great connoisseur of photographic lenses response curves (he assiduously internet forums), new photographer knows that the place where the rays are the least diverted, at the center of the lens, is the place where the details are best defined. It then maximizes the sharpness of the picture by placing systematically the subject in the center of the picture, clever !
More, development in Hyperfocal avoids any problem of back or front focus, and so nothing is ever blurring !
New photographers are pragmatic and remind us of the simple rules that enable d' get the crop to 100% clean and well defined. How could we forget these essential rules, opting for framing promoting areas not perfect lens ? On this point equal with new photographers : Indeed, with a little training, It will be surely possible ironing on a mode "Although subject to the center of the image", well closing the diaphragm to maximize the sharpness in the corners.
---
I voluntarily restricted the results of my study to these few points which, from my point of view, well largely sufficient to respond to the question : What future for professional photographers ?
---
In conclusion
I have to say that despite my initial negative bias towards these "new photographers", which prevent the professional photographer to announce to the bride and groom that they will have no picture of leaving the Church under the rose petals as he had forgotten to remove the M mode after the bouquet in the bottom of the crypt macro shots, We must clearly : the profession of photographer is fucked up – new photographers are there, Mastering the rules of aesthetics, technically to the point, always ready to capture the decisive moment, and this throughout the day.
Photography was for me a great experience, but we must live with the times : I'll find much to an antique dealer who can offer me a few euros for my old Nikon D700 – and with I will buy me something which is really worth : an iphone !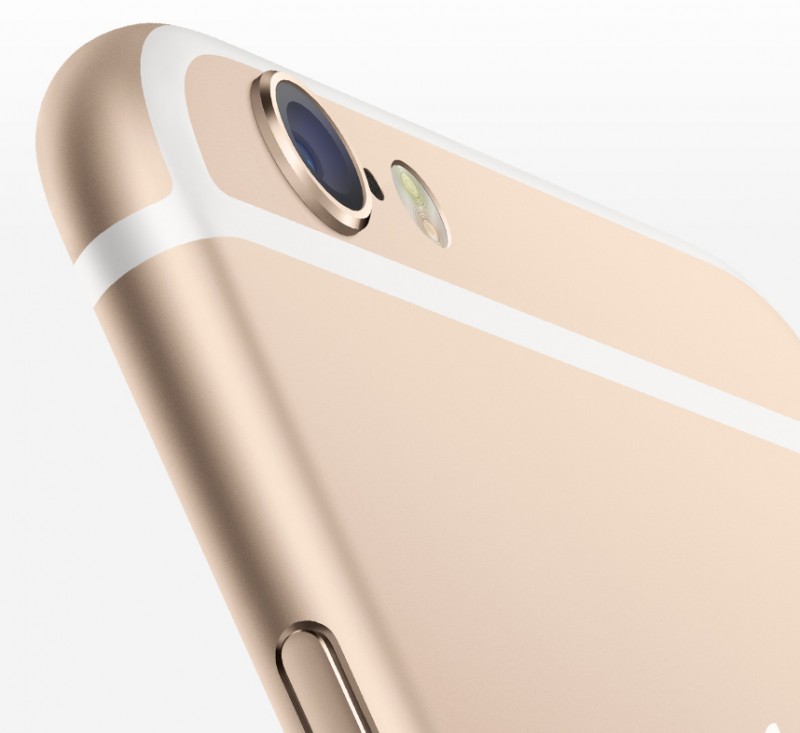 That fall well the last just came out and guess what ? It was never as incredible ! And in addition to take more nice pictures, I'll be able to become a cameraman with this little gem !

---
If you think that errors might have to slip into my analysis, excuse me, and please kindly know let me through the comments below.
The same, all information in your possession with regard to these "new photographers" are good to take : Let us help each other see more clearly in this case !
HTTPS://delepinay.fr/WP-content/uploads/2014/09/coPhotographes-mariage-photographe-Guilhem-de-Lepinay-6542.jpg
1000
1503
Guilhem
HTTPS://delepinay.fr/WP-content/uploads/2015/10/silhouette-logo-texture.PNG
Guilhem
2014-10-27 14:35:33
2015-07-08 12:03:41
Why the profession of photographer no longer has to be.