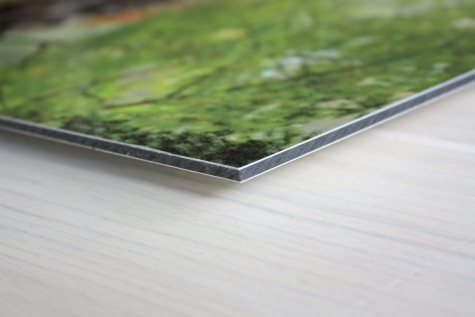 Hello to all,
Despite the very good quality of the prints he proposed,I decided to no longer work with the printer with which I used to treat for direct printing on Alu Dibond®. En effet, package he proposed to send the tables was sometimes made in way too little serious, leading me by twice having to make requests to reprint – always quickly accepted but annoying in terms of steps and time, especially now that the tables are sent directly to the end customer with shop online.
In order to limit the risk of problem during transport, so I chose to work with a printer that, If it is slightly more expensive than its competitor, offers also good print quality but much better invoice package.
It provides protections much more thoughtful and suited to the carriage of potentially fragile tables indeed : plastic reinforcements come to consolidate the corners of the table, the most exposed during transport, While paper special on several layers surrounding the entire array to avoid any scratch. In the case of large tables, extra thick carton is added. Everything is dragged in a carton of largely higher than the table dimension, still, in order to preserve the edges of the table in the case of unscrupulous carrier.
I have never had problem with this new printer. The main problem now is the time required to eradicate the packing table nuclear-proof !
Nice day !
Guilhem
PS : you who may have received a print on Alu Dibond® one of my photos, How did you find l ' packaging ?
HTTPS://delepinay.fr/WP-content/uploads/2014/10/Dibond-2.jpg
317
475
Guilhem
HTTPS://delepinay.fr/WP-content/uploads/2015/10/silhouette-logo-texture.PNG
Guilhem
2014-10-03 16:13:09
2015-07-08 12:06:11
New provider for Alu Dibond® prints