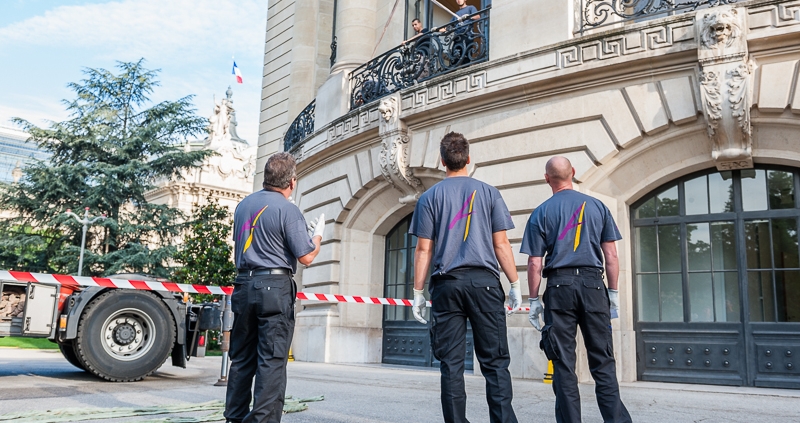 Hello to all,
Here are some pictures of a report made under an order of a subsidiary of Slobodan, Artrans, which specializes in transfers of works of art.
In order to constitute a Image Bank complete their know-how and their teams, to achieve new brochures and their website including, I followed one of their construction in an exceptional location : the Petit Palais in Paris !
Discover below the photos of this exceptional place.
The works in the exhibition Paris 1900 blown at their respective owners – museums or individuals, in France and abroad. The care taken by the teams of Artrans as well as by the conservatives during the disassembly of the exhibition is just simply amazing : some works are examined during (very !) long minutes every angle in order to make "the outgoing State of play", then they are packed in their crates on measurement, with great protections. Labelled, always under the gaze of "conveyor" of each piece, which does not leave work until its arrival at destination, they are then directed into trucks waiting at the Petit Palais.
This flawless organization allows to move the most exposure to make room for the next, while ensuring a perfect handling of works : not the right to make mistakes, Some have simply priceless !
---
Photo by business report : a stock within a few days
Photographer for business and industry, I am specialized in stories from the field. My type photojournalism method to capture the highlights and details you need to illustrate your job, without altering the course of action. I shall only ensure perfectly compliance security (port of PPE including) on each of my photos so that you can directly use in your communication plan.
---
I let you discover below a selection of photographs of this story !
Handling of works by eight metres long
Packing and handling of fragile works
Realization of boxes to measure
Here is a quick overview of the work done for Artrans. Do not hesitate to contact me if you want me to come do a report in your business !
See you soon !
HTTPS://delepinay.fr/WP-content/uploads/2014/09/Corporate-Artrans-photographe-Guilhem-de-Lepinay-4619.jpg
532
800
Guilhem
HTTPS://delepinay.fr/WP-content/uploads/2015/10/silhouette-logo-texture.PNG
Guilhem
2014-09-29 21:27:43
2015-07-08 12:48:01
Photo by business report : Artrans at the Petit Palais