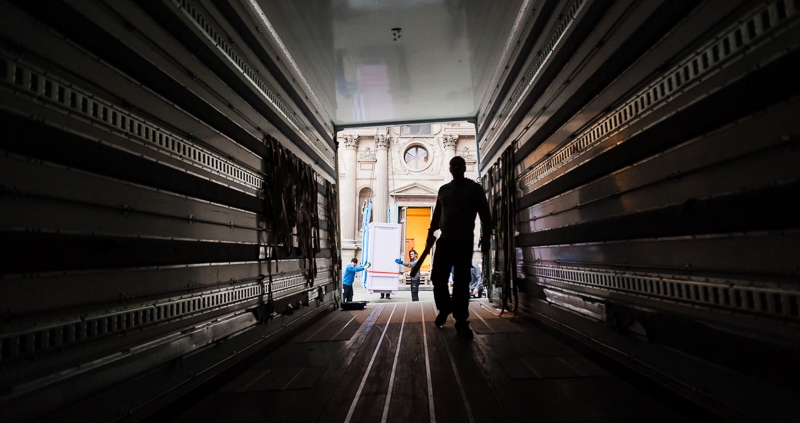 After a first reportage at the Petit Palais for the removal of the Paris exhibition 1900, commissioned by Artrans, a company specializing in the removal of works of Art, has renewed me its confidence in asking me to make a second report in an even more exceptional place : the Louvre !
Reportage at the Louvre – transfer to the Louvre Lens
The Louvre – Lens having planned to carry out a major exhibition on the theme "Animals and of the Pharaohs", which has more of 430 unique pieces very special relations between the Egyptians to the animal Kingdom.
A large part of the works located in Paris have thus had to be moved, with all due respect to pieces that are invaluable. Artrans has address important challenges, to move the baboons of Aswan, a piece of pink granite block of almost six tonnes !
A photo power essay
The palpable tension in the handling team was intense, and required me to pay more attention to my movements and positions for shots that the slightest suspicious sound caused stress for this team that does not have the right to the error.
The method of the photo without intervening report here climaxed : not matter indeed to ask the team to repeat a particular movement or in such situation : the moments are to take it or leave ! Very difficult light conditions were an additional constraint to overcome, but the result is at the height of the event !
Excerpt from the photographic reportage
The photographs below were commissioned by the company Artrans, and are represented here with the kind permission of the Museum of the Louvre in Paris, I would like to thank.
HTTPS://

delepinay.fr/wp-content/uploads/2014/12/011-Reportage-Artrans-photographe-Guilhem-de-Lepinay-4562.jpg
532
800
Guilhem
HTTPS://delepinay.fr/WP-content/uploads/2015/10/silhouette-logo-texture.PNG
Guilhem
2014-12-07 20:25:14
2015-07-08 12:37:31
Reportage at the Louvre : transfer of the baboons of Aswan